I actually have a great math happening that I will need to work through… How will we cut the cake to be sure 90-100 (what is the updated roster number plus all our support staff) teachers and instructors all get a piece for our 10 year anniversary of COMPLETE MATH providing PD to teachers and leaders in the Northern VA area?
I will have to work through the assumptions and do the math…..
Wegman has 1/2 sheets…. How many half sheets will I need? (2?)
Celebrating 10 years of COMPLETE MATH: Empowering Math Teachers/Leaders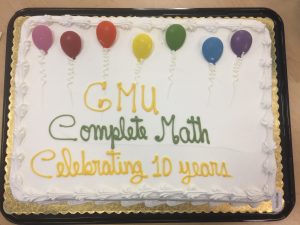 What is the typical size for a
1/2 Sheet Cake?
Full Sheet Cake?
So how many horizontal and vertical cuts will we make to be sure we have enough in case everyone wants one piece? Do people go for seconds on cakes? I know I can't afford that! ( I mean weight wise not price!)
What will the size of the individual portions? I don't want people think we are "cheap" so what is the ideal size of cake for each one to have????
So much fun!!!!
Kind of like Jonathan Thompson's  family of problems which has such great anticipation and student work….
Brownie Pan  (Tasksheet)
Brownie Batter (Tasksheet)
Bitesize Brownie (Tasksheet)
What if I assumed that the sheet of cake is 18 by 24 by 2inches
What if I make them 2x2x2 just for esthetics…. will that be enough? How many cuts do we need?
Note to self: Bring a plastic knife and plates 🙂